click images for larger views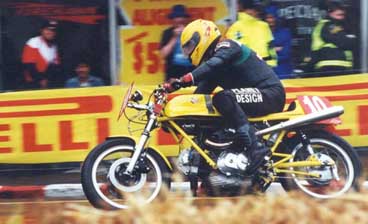 Grant on his GT Imola Replica taken at Wanganui in 2002 race meeting, clutch slipping wildly and lots of rain.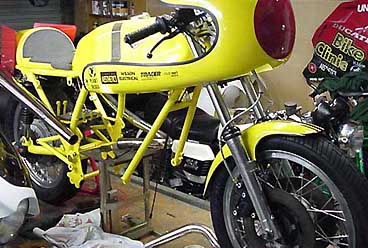 Grant Vinten's second GT, his Spaggiari replica. "Just about every subject the List discussed in the last year is here on this bike" The maroon coloured GT shown below is this bike before it's transformation.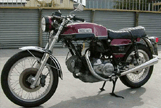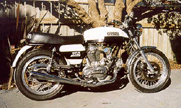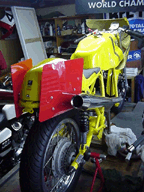 Below, the most recent photos of Grants bike. The engine has a V2 crank, new rods, new Hi comp pistons, full desmo heads, new bevels, new cams, new 41mm dellortos, fully shimmed gear box and sweet as a nut, new oil pump, dynapak electronic ignition, new clutch, new barrels and 904cc.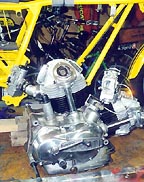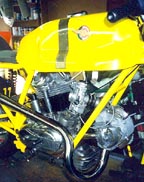 Quoting Grant: Photos of the gear change over linkage (below). This is prototype one (as I am sure that as we continue running the bike and using it hard we will find some problems but to date it has worked perfectly). It is made from stainless steel which is very heavy and as we progress with development of the bike I am sure that this will change to some high cost low weight material. The bike is producing 68Hp. So more tuning, more tuning. In case anyone is wondering why the clutch is out of the bike it's because it's gone!!! Will give everyone (if they are interested) an update on the entire motorcycle soon.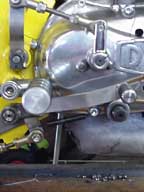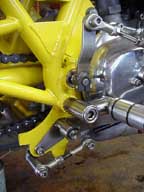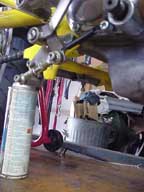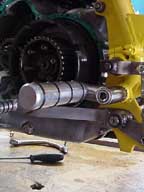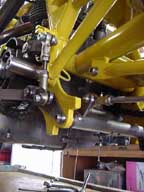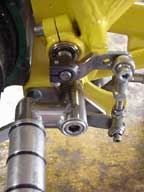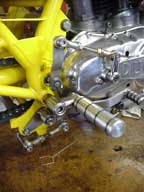 Awesome! Thanks Grant