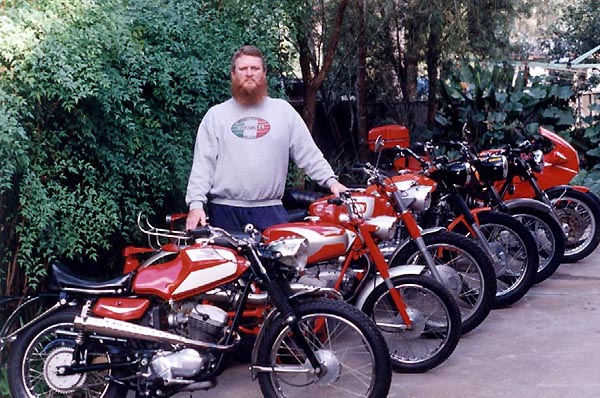 click images for larger views
And now for more....below a few shots of Steve's new Imola replica racer. This beauty has come together since November 2002.
Specs: GT frame, 38mm Marzocci forks, Koni shocks, 73 Imola fairing, 950cc engine, 90mm Wiseco pistons, Vee Two crank polished and lightened, 900 barrels, twin plugged desmo heads, Imola cams, Dyna ignition, Vee Two straight cut primary gears, Imola high pipes, 40mm Dellorto's, Borrani rear rim WM5, stainless spokes, 220 mm brembo disc, 08 Brembo caliper, DID front rim, stainless spokes, drilled 280mm 4 bolt brembo disc's, 08 Brembo calipers, 81 SS forks have Progressive suspension springs and 5wt oil.


Thanks for the pics Steve!