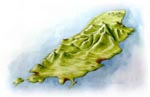 Written by Jim Calandro - Hey Y'all, I'm back from the Isle of Man and still cannot believe I actually went after all the years of reading about it! Our motivation was the death of Tom Parrot, a friend to several of us who had talked of all of us going as a group. We never did it. As I write this report I am at the beach at Ocracoke Island, the outer banks of NC, and have seen more sun in one day than the whole nine days we spent at the Isle of Man. I have tried to record all that happened, both good and bad for your review.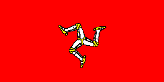 Isle of Man flag

Thursday and Friday June 4 & 5, 1998 The ordeal
Craig Hunley, Rick Peters and I all signed up for the AMA tour and left Charlotte, NC together on Thursday on the 5:00 p.m. flight. We arrived in Newark a little late and were fearful that we would miss our connecting flight to Manchester, England. As I fly from Newark quite often, I should have known that this would not be a problem as nothing ever leaves on time! To prove this point our Continental Airlines flight sat on the runway for two hours after we boarded. The actual flight was fine except that Craig and I sat in the last row and had to smell the dinner cooking for four hours until they served it. Of course they served us last and we did not eat until almost midnight our time. We arrived at Manchester at 8:30 am Friday morning to find our Manx Airlines flight had already closed its doors and was on the runway. We were told to return on Saturday at 7:20 p.m. for our flight to the Isle of Man. Needless to say we were not pleased with this solution to our transportation problem. We were going to miss all the races on Saturday and we demanded a better solution.

After several calls and much discussion it was determined that we could catch the ferry at Liverpool at 3:00 p.m. Thanks to the Beatles I even knew where Liverpool was. We all jumped at the chance to get on the island on Friday so we could see the junior TT race on Saturday. The airlines gave us some vouchers for breakfast and we were introduced to bangers, a very greasy breakfast sausage. A small van was rented and we were off for the ferry. We all agreed that even though we would have preferred a 45-minute flight to the four-hour ferry ride that it was something that should not be missed. Watching all the bikes line up to get on the ferry and how they were tied down with ropes in the vehicle decks was an experience. We also got our first introduction to the European biker and found that the camaraderie of the bike is not limited to the US. I had a difficult time explaining why Craig and I had such different accents when we came from the same town in the US. The distinction of a southerner and a Yankee was not something they were familiar with. I left it up to Craig to explain what the point of a NASCAR race was!

We arrived at Douglas, the Isle of Man around 7:30 p.m. and were picked up by the company that was providing our rental car. Now let me tell you, after being awake for 36 hours, taken two flights and one ferry ride, learning how to shift with your left hand and drive on the left side or the road was a real challenge. Thanks to Craig's map reading and alert Manx drivers we arrived alive and well at the Metropole Hotel at 9:00 p.m. We went for a short walk to unwind and find something to eat and then off to bed. As I fell asleep almost immediately I felt I had adjusted to the time zone change.
Saturday June 6, 1998 Look left or die
My first lesson of the day was crossing the street. Our US reflex of looking right to cross the street is useless and will get you squashed flat. Craig decided the best way to deal with this problem was to let me cross the street first. The expression "with friends like that you do not need enemies" comes to mind. The other thing that struck me was that when I looked at the driver to see if he had seen me he was sitting with his arms crossed and the vehicle was turning. To say driving was a challenge is an understatement. We decided to let driving go until we were more rested and walked the entire length of the Promenade to see all the shops and bikes along the way. It rained. We then walked up the hill to Governor's Bridge, the Start/Finish Line, Bray Hill, Ago's Leap and down to Quarter Bridge. It rained.

While at the Start/Finish Line we ran into fellow Ducati owner Charlie McCollough from Atlanta, Georgia. We spent lots of money on souvenirs and tried to stay dry. The race was canceled and we continued to walk. We stopped at a small pub and had a few drinks to warm us up and get a little rest. We then headed on to down town Douglas and the Promenade. Two bikers driving by in fish net outfits entertained us. Despite the large breasts showing through the outfits we suspect that the large hairy rear ends belonged to some impostors. We stopped at the simulator and joined Joey Dunlop on a fast tour around the course. Let's just say I am glad he only offered to take me on a virtual reality ride and not the real thing! Over dinner we saw several large animals riding bikes. Just wonder how the rider in the duck costume could see out past the flapping duckbills? Two bikes spotted - the Douglas and the Francis Barnett - were both new to me. This would continue to be one of the best parts of the trip as we continually saw bikes we had only seen in pictures and bikes that are new but not imported into the US. We walked almost seven miles this day and were very tired. Did I mention the rain?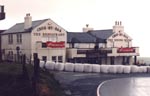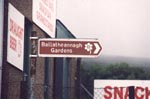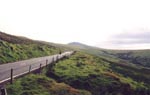 Sunday June 7, 1998 Instead of rain we got fog
Better rested and a little braver we tried the car and drove up to the Murray Motorcycle Museum. We went opposite to the direction the course is run, as it would be much shorter. We found out that even though it was not Mad Sunday yet many bikers were out and the oncoming traffic was quite dense. As we climbed the hill to Creg Ny Baa we were stopped by a Bobbie and informed that the road ahead was very foggy and we should proceed at our own risk. The museum was only a few miles ahead so we decided to go on. He then recommended that we turn on our lights which, with all the controls backwards from how I am accustomed to them being, was quite a challenge. The Bobbie was not amused and questioned if I should be driving if I could not find the controls. I opted not to make a smart-ass remark and the trip went on without a hitch.

Murray's left me with two impressions - first it smells like my grandmother's basement. Have I mentioned it rains a lot here? Second it has very old motorcycles from TT races of long ago. It was a fine museum but did not have as much to see as I thought it would. While buying souvenirs we asked the man where was a good point to watch the race. Yes there was a race on Mad Sunday as the Saturday races had been postponed and the sidecar A race was canceled, a first for the TT! He suggested we go to the Ballacraine and go straight through the turn and turn a few hundred yards past it and then come up behind the track. We found a place to park and sat on a wall right next to the track. A local farmer had set up her sunroom as a refreshment center so we had plenty of food and drink near us. Did I say near us? We had motorcycles going by us at close to 160 mph and they were only three feet away. It was not the best point to watch the race but we were glad we went as we got closer to bikes at speed than we did the rest of the time there.

We got to see the parade lap of Honda bikes and greats. Freddie Spencer came by as a relatively slow speed and just was having a good time waving to the fans. Someone said when he asked how the course went they just said go down the hill and turn right at the Quarter Bridge and then keep the ocean on your left. Despite it being a parade lap we understand someone crashed one of Honda's museum pieces.

We actually saw the sun that day and decided to drive the track from Ballacraine to see what it looked like. As Mad Sunday had been officially canceled we thought we would be safe. Unfortunately the bikers who had come for the day did not share the official opinion and were out to ride at speed. We kept as far left as we could to let them go by. When we reached the mountain course we were socked in by fog so in two tries we had not seen that part of the course. That evening we went to the block party to see the rides and the dancing girls. The local Manx men, women, and children heavily attended it. We mostly looked and had something to drink.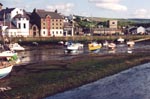 Monday June 8, 1998 For a change it rained
The day started out as if it would be nice but the rains started to move in. We did a little shopping to have a lunch to bring with us and again asked for a good viewing point. We were advised to go to the Braddan Bridge turns and sit in the churchyard. There were three and two pound seats so we opted for the more expensive ones. The view was great and the church had installed wooden benches for the spectators. The LightWeight race started and so did the rain. Many of my pictures from that day show the tops of lots of umbrellas and not too many motorcycles. It was a good viewing point but the race was shortened to two laps and we did not get too many good pictures as the low light and poor choice of 100 ASA film did not work. We did plan on coming here again tomorrow as it was an excellent viewing place.

We drove to Peel to see the castle there. We were under the impression it was a restored castle but found out to our chagrin that it was all ruin and we were outside the entire time. Did I mention it rained?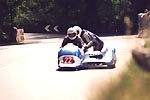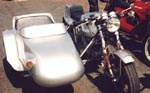 Tuesday June 9, 1998 What is that yellow object in the sky?
A quick visit to the Manx Museum but as the sun came out and the race time neared we left for Braddan Bridge and our churchyard. We tried a new approach and went in through the cemetery and were deep into the apex of the second turn, a right hander. With good sunlight we started to take pictures of the sidecars and one of the first ones through hit the curb and threw out the "monkey". He must have hit his head as he was a little confused and started to wonder around on the track. One of the Marshals called him over and he got out of harmÕs way. His driver was able to stop down the road and came running back. Not a happy reunion as the driver was very upset to have tossed out his passenger.

We moved over to the two pound seats and ran into Rick Peters and his brother Clint. We took lots of pictures of sidecars and then the parade lap of historic racers. Some of them came by just waving but a few were intent on racing and were quite a sight to see. The sound of the megaphones had to be heard to be believed. We heard that one of the historic sidecars crashed on the north side of the track killing the driver and putting the passenger into the intensive care ward of the hospital. We also understood the Honda lost another historic bike to a rider's enthusiasm. As Honda was celebrating their 50th year and was looking to get their 100th TT win I guess that is the price you have to pay.

We went back to the Manx Museum and learned a lot about the island's history. We left at closing time and sat on top of the car park to watch the Red Arrows, Blue Angels to us Yanks. Unfortunately the weather did not cooperate and we did not get to see them. As Craig had not driven yet and he wanted to drive the course, we set out again. Again when we reached the mountain part of the course the weather became overcast and the roads wet. We did get to see Crey Ny Baa and its view but with a low ceiling.

Before we left I had been in touch with Bob Williams of the International Laverda Owners Club and we made plans to attend their meeting. Off to Crosby and the many Italian bikes that showed up. Almost all-Italian brands were represented but Laverda was the most numerous. The surprising thing was the total absence of any early twins, not one 750 or 500 and only one lone 650 new generation twin. All sorts of triples were there and even one converted to kick starting. The man likes a light bike. One man came up asking about the best place to get parts in England. He was speaking Italian and picked on me to ask My Italian is almost nonexistent but with my Spanish training and what I heard from my relatives as a kid I tried to help out. After a half-hour of pantomime and broken Italian we had answered all his questions. I asked him his name and it did not sound Italian and it turns out he was from France and felt Italian would be the best language for the club event. It turns out that John, who I was translating for, speaks fluent French.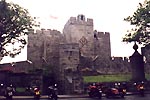 Wednesday June 10, 1998 Rain, rain go away come again some other day
Today it is not raining yet so we feel we may see some more racing and decide to go to the famous parts of the course we have heard of. First there is Bray Hill and its high speed down hill followed by an up hill. The bikes come through here at quite some speed but other than a high speed wobble it is not very impressive race watching. We move on to Ago's Leap only to find that the wonderful pictures we have always seen in the magazines and tourist brochures were taken from some one's front yard and not accessible to us. We do get to see some front wheels leave the ground at speed but only from a distance and even my 200-mm telephoto lens will not make for much of a picture. The second race is shortened for rain, what a surprise.

We head to Castle Town and its famous Rushen Castle. This castle is thankfully a full restoration and has a roof to keep us dry in the now increasing storm. It left quite an impression on us to hear the wind howl outside the castle walls. The castle was quite cool and damp until we entered the noblemen's rooms. They had stained cloth on the walls, not the tapestries we would have expected. The stained cloth was easier to roll up and move on short notice. It appears that the nobility of Man had to move quite often, as this island was a strategic area for most of its history. They had tables set up with food and mannequins to depict life in the castle and had some live folks who would explain what it was like to live in a castle back several hundred years ago. This was well worth the time and money to visit.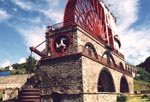 Thursday June 11. 1998 Sun and Motorcycles but no race
This day started bright and had a full moon to complete it, too bad no races today. We headed up to Laxey to see the famous water wheel that was used to pump water from the lead mines. This water wheel generates 200-hp and pumps water from a depth of 1,800 feet, which puts most of the mine below sea level. It was a good day to take pictures and all the bikes that had been sitting around during most of the week were now out looking at the sites. We then headed out to the northern most point of the island, the Point of Ayre. From here you can see Scotland, England and Ireland. The beaches were all large and small stones but no sand.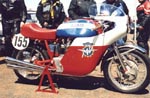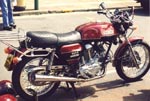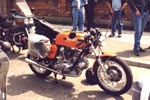 Back to Ramsey to the Italian bike show and some of the best looking motorcycles we saw so far this week. The real treat was when a vintage racer MV Agusta four showed up and the owner serenaded us with a running of the motor through full megaphones. The biggest surprise was the spontaneous standing ovation the owner received when he turned off his motor! If you have never heard an Agusta revved to red line in a village square you have truly been denied one of the great pleasures of life. I have heard of recordings of this sound being sold and wondered why anyone would want one. I think I now know. Morinis, Laverdas, Ducatis (bevels and belts), Guzzis, Aprilias, Bimotas, and Benellis were all there to please the eye.

After lunch and further Italian bike looking we shopped at the local stores. Then it was off to the Port St. Mary and the Calf of Mann, the southern most points of the island. We also scouted a place to watch the race from on Friday and picked the hairpin and the parliament square - both in Ramsey. Upon return to Douglas we went downtown to the area known as Bushy's. There used to be a pub here by that name that had burned down. For the TT they erect a tent. The crowd gathers here each evening and we got to see quite a show as each person tries to outdo the next. We saw a man that could perform the best burnouts we have ever seen. He would lock the front wheel and then get set the rear tire ablaze. As it is still smoking he starts it hopping and does a doughnut. He then let some of the front brake go and started down the street with the rear tire still smoking. He even got it to hop from side to side as he went along at about ten miles per hour. Someone came out and tried to outdo him only to fall over. One lady rode by with only a helmet and pants! She was able to wave to the crowd without letting go of the driver.

A group of men came down the street in long lab coats and gave us an up front and personal explanation of the "Full Monty". There were several mooners who tried to outdo the one nature was providing over the bay. By far and away the best of the lot was the man who managed to light a smoke bomb and not burn his butt cheeks. The wheelies and brakies continued during the evening. It was amazing how much fun the local police allowed all to have but never let it get out of control. The only riders we saw taken away were those who tried a stunt and crashed. You can never see anything like this on this side of the Atlantic.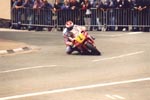 Friday June 12, 1998 Slower turns and better views
We went to Ramsey and the hair pin turn leaving town and got very close to the bikes at a speed where you could actually see them. It made for some dramatic pictures and we had a good time. Again we ran into Rick and Clint Peters looking for good shots. Several of the riders forgot how slow that turn was and kept the spectators on the outside of the turn awake. For the second race we went down into town to watch at the Parliament Square. On our way we stopped off at a pub to have something to drink and sit down for a while. The bartender asked where Craig was from, as he knew his accent was not from the British Isles. When Craig said Charlotte, NC he asked if we went to Daytona. Craig said yes, as it was only a five hundred miles drive and we could do it in a day. Well I am not sure what was faster the bartender's mouth falling open or all the heads in the pub turning in unison. Some one living on an island only 22 miles long has trouble imagining a day trip of "only 500 miles"! One person mentioned they had a car for five years that had less than 8,000 miles.

The Parliament Square was again very close to the action and we were able to move to two vantagepoints to get pictures both entering and leaving the first turn into square. Something we had noticed the whole week in the Isle of Man was the age of some of the spectators. It was not unusual to see an older couple in their seventies sitting out on their front lawn to watch the madman go by. Several had radios to keep them up to date on the leaders. The only complaint were heard about the races was a local religious leader was concerned that they had racing on the first Sunday due to rain and were considering having it on the second Sunday. It had never been done before!

We spent the rest of the day looking for Celtic and Viking ruins and ended up on a road where the mirrors on both sides of the car were touching the bushes on the side of the road. Every several hundred yards there was a wide spot in the road to let another vehicle by. I guess you would get out and have a coin toss to see who backed up. We did manage to find King Orry's grave from 2,200 BC, he was the last of the Viking kings. We went back to Peel to take pictures of the castle without the rain. That evening Honda put on a fireworks display that was just wonderful. We were fortunate to have just walked out of our restaurant just in time to see them.

Saturday June 13, 1998 Our last day
The rain had returned and we had just about done all we had come to do. We did some more shopping to get gifts for our families and friends. We went back to Peel to see the Story of Mannannan. This museum has a very modern method of telling the story of Man and we enjoyed it thoroughly. Mannannan McClure was the Celtic patron saint of the Isle of Man. He told the story through a series of reproductions of the houses and costumes that their ancestors wore. I learned more about the island's history here than in all the other places we had visited. If you ever go you must see this presentation.

Sunday June 14, 1998 Rain and farewell
Just to show us there were no hard feelings the weather sent us off in a rain shower. It turned out to be quite amusing when we turned in our rental car. The clerk was sure we had made an error on the mileage we were reporting. It seems we had a new car and they were thinking we should have reported 85 miles not 850. Where did we go? We did see a lot of the island.

All our connections went well and we returned to Charlotte on time. It was fun but we were glad to be home. Some things I learned while in the Isle of Man are:

Bangers are breakfast sausages
Chips are French Fries
Crisps and Potato Chips
A Bonnet is the Hood
A Hood is a Roof
A Boot is a Trunk
Petrol is Gasoline
Queenies are Scallops
Craig is a Yank (A fact he still denies)


I am so sorry that Tom Parrot never lived to see this with us.

Jim Calandro Capo della Strada

Thanks for the story and pics Jim!