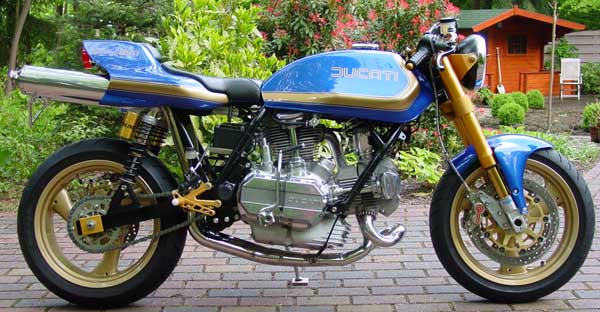 Huite Vogelaar's "HyperBevel 947" is truely a "Dream Machine"
Originally a 1983 SD Darmah, it took about 2.5 years to build into the HyperBevel.
Shown to the public for the first time at the Ducati Clubraces in Assen Holland in May 2003
Specs:

Engine:
90,0 mm bore, cylinders made by VeeTwo, pistons by Cosworth
74,4 mm stroke
Heads are completely modified at StarTwin motors
Valves: 43/39, made by VeeTwo
Racing cams by VeeTwo
Big End and Conrods by VeeTwo
Dry clutch by VeeTwo
Motormanagement system by Silent Hektik
Engine building by Herman Jolink (dutch Ducati Dragster racer) and StarTwin motors

Chassis:
Frame modifications and exhaust system by StarTwin motors
Swing arm is a modified Verlicchi (aluminium)
Ohlins front and rear
Steering damper by HyperPro
Clip-ons by VeeTwo
Ducati MHe seat

Other:
MOD7ce computer dash
Colour: Candy Apple Blue (from Lambo)
Styling done by Bart v.d. Bogaard (young Dutch designer)


Thank you Huite for giving us the pleasure of such a work of art!